We are in our final week of competition in this
Summer Quidditch League (SQL) 2018 Games
.
Solve this puzzle and send me your solution in a
Forum PM
within one week of this being posted and earn
5 Team Points
! (If you send it in after that date, you will earn
3 Team Points
. Keep in mind that all activities are due by August 20th.) Title your PM "
SQL Week 6 - Hashi
". Please include the name of your team in your PM.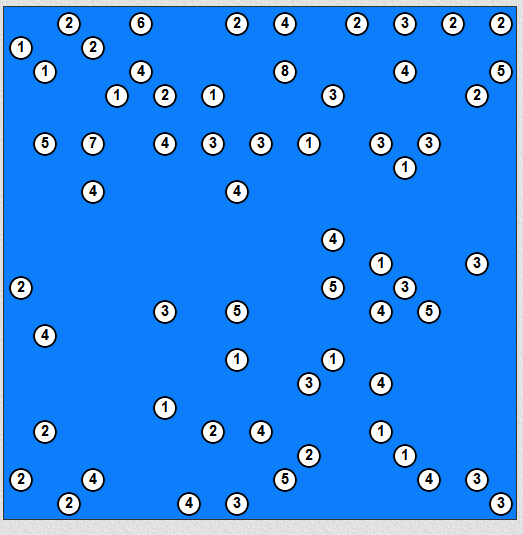 Here are some hints for those who haven't done these before:
First off, Google "Hashi" for some instructions on what it is and how to play it.
Here is a result of a quick search:
Rules of Hashiwokakero
* Connect islands (the circles with numbers) with as many bridges as the number in the island.
* There can be no more than two bridges between two islands.
* Bridges cannot go across islands or other bridges.
* The bridges will form a continuous link between all the islands.
Look at the puzzle.
All '8' numbers have four 2-bridge sets going from them.
All '7' numbers have four bridge sets going from them, 3 with 2 bridges, 1 with 1 bridge.
All '5' or '6' which have their back to a wall (or a blank area) have to have 3 bridge sets going from them. The bridge sets for the '6' will be of 2 bridges each.
If there is a 3 in a corner, it must have a 2 bridge sets going out from it
A '1' never goes to another '1'.
Do the obvious bridge sets and then look at it to see what changes are made for the remaining numbers. Do you now have a '5' or a '6' with their back to a wall?
ps - If you get stuck, send me what you have and we can play with it and see if you can get unstuck.
Note: If for accessibility reasons you can't complete this task, please just let me know via HOL Forum PM and an alternative can be worked out.