Cleansweep One
Posts: 708
Joined: Fri Sep 25, 2015 4:56 pm
Cleansweep One
Posts: 708
Joined: Fri Sep 25, 2015 4:56 pm
First to turn in the correct answer for 15 Hoots plus earn the bonus 5 Hoots:

Prof. Tarma Amelia Black!

Followed by:

Vanessa Tilley-20 Hoots!
Anna Snape-20 Hoots!
Kaitlyn Nightingale-20 Hoots!
Siobhan Sullivan-20 Hoots!
Kendra Givens-20 Hoots!
Prof. Scarlet Leslie-Lewis-20 Hoots!
Astaria Rivers-20 Hoots!
Maxim Trevelyan -20 Hoots!
Polaris Black-20 Hoots!
Shiloh Adlar-20 Hoots!
Prof. Gustavo Flores-20 Hoots!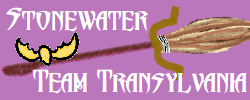 Cleansweep One
Posts: 708
Joined: Fri Sep 25, 2015 4:56 pm
The Solution:

"Boys and girls of every age, wouldn't you like to see something strange? Come with me and you will see, this, our town of Halloween!"

It is from The Nightmare Before Christmas' "This is Halloween"