It's the beginning of March at HOL and there have been a whole lot of things going on amongst the excitement of the start of the new term's classes. Slytherin maintains its lead in house points whilst Hufflepuff and Ravenclaw have over and undertaken each other on occasions.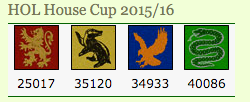 Hol
Rowena Ravenclaw's Tests of Logic
came to an end in early February. People from every house showed off their Eagle-like wit and problem solving skills and many are left missing the regular logic puzzles posts already! Thank you to the wonderful Matilde Rayne and Kim Alting for bringing the activity to life
Amidst J.K. Rowling's new information regarding wizarding schools across the world, the Art Department issued a challenge to all of HOL: design a crest for one of the 'new' schools! There's still a little time remaining to submit, but even if you don't go along and check them out, don't forget to vote and comment!
Hollers
Here in HOLLERS, well, we've moved! As I'm sure you've all noticed… We also finished up the frosty themed challenges that were part of
Wintry Mix
. Meanwhile, there are a number of great challenges still going on in the '
Dark Prince of Potions
' activity, a moving tribute to the brilliant Alan Rickman. Come and join in with writing, puzzle and art challenges available! Pay your respects and earn some Hoots!
Quidditch
Official house fixtures made way for
Quidditch Shenanagans
in Feb! People from all houses (or no house) took part as either Team Pink or Team Purple. There were weekly activities as well as games each Saturday between the two teams who battled for points. The final score was close, with Team Purple winning 480-245.
Look out for the matches coming up this March:
Hufflepuff vs. Ravenclaw – March 12th
Gryffindor vs. Slytherin – March 19th
Ravenclaw
Over at the Roost, Love has been in the air with some Valentine's themed challenges for February. There was colouring and cards, decorating as well as some appropriately themed puzzles.
Excitingly, the infamous
DOOR KNOCKER
has returned! Ravenclaws can now enter a secret forum after solving the riddle posed by the Eagle statue guarding the door.
Hufflepuff
Over at the Sett, Hufflepuff threw a giant, everyone welcome, awesome
slumber party
. There were snacks and pajamas, games, pillow fights, fort making and even a movie.
Basically, everyone ate way too much and stayed up way too late, but all in the name of good fun!
Gryffindor
Gryffindor are taking new submissions for the
Pawprint
, you still have time! Send everything in by the 13th of March!
Slytherin
The
group read along
of the Philospher's Stone has finished and now moved on the Chamber of Secrets, so catch up!
Elsewhere in the dungeons,
Slytherin Stroll
has started to mark the beginnings of Spring. Come take a breath of fresh air and try out the challenges. There's role-play to come and a mysterious surprise….