From "Harry Potter and The Philosopher's Stone" by J.K. Rowling :
"The hall looked spectacular. Festoons of holly and mistletoe hung all around the walls, and no less than twelve towering Christmas trees stood around the room, some sparkling with tiny icicles, some glittering with hundreds of candles."
"Harry had never in all his life had such a Christmas dinner. A hundred fat, roast turkeys; mountains of roast and boiled potatoes; platters of chipolatas; tureens of buttered peas, silver boats of thick, rich gravy and cranberry sauce - and stacks of wizard crackers every few feet along the table. (…) Harry pulled a wizard cracker with Fred and it didn't just bang, it went off with a blast like a cannon and engulfed them all in a cloud of blue smoke, while from the inside exploded a rear admiral's hat and several live, white mice."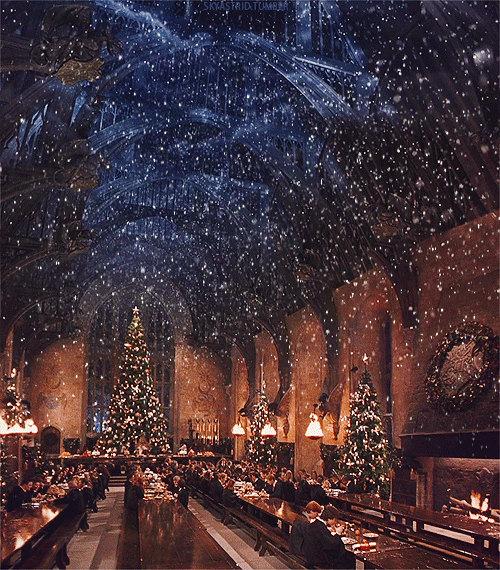 *~*~*~*~*~*~*~*~*~*~*~*~*~*
From "The Lord of the Rings" by J.R.R Tolkien:
"When every guest had been welcomed and was finally inside the gate, there were songs, dances, music, games, and, of course, food and drink. There were three official meals: lunch, tea, and dinner (or supper). But lunch and tea were marked chiefly by the fact that at those times all the guests were sitting down and eating together. At other times there were merely lots of people eating and drinking - continuously from elevenses until six-thirty, when the fireworks started."

I don't know how you feel when you read these posts but they light a candle in me, warm and glowing and cosy. I have listened to the passages about Christmas in Harry Potter so often that those specific cassette tapes in my audio copies are far more warn than the others. The same goes for Midwinter in Tamora Pierce's Tortall books and the feasts and celebrations in The Inheritance Cycle by Christopher Paolini.
So, my question to you is: what are your favourite celebrations in books? Whether it's particularly beautiful decor, lavish food that made your mouth water or just something that filled you with the urge to go and join the party, which make you feel festive? Whether it's a portrayal of a real holiday (and yes, Non-fiction is totally permissible) or a fictitious festival, it'd be great to hear about it.