Today my husband, daughter, friend, and I visited a town in Pennsylvania called Centralia. Centralia used to be a thriving mining town, home to over 2000 people. In 1962 a fire created a chain reaction and set all of the town's coal mines on fire. The firefighters were unable to put it out, and so the underground has been burning ever since! The carbon monoxide fumes leaked through cracks and so the town was dangerous to live in. There is even a film inspired by this town called
Silent Hill
. The government offered the residents buyouts and by 1984 most of the residents had left. However, in 1992 the governor Bob Casey condemned all of the remaining buildings, and in 2009 the new governor Ed Rendell formally evicted the remaining citizens.
Nowadays it's more of a touristy attraction than it is a deadly ghost town. It's certainly not haunted, and there really isn't much left to call a "town." The only thing left, as the trees have taken over most everything else, is a few graveyards (with shifted headstones) and the abandoned section of Route 61, now know as "Graffiti Highway." The closed off section of the highway is not visible from the main road anymore because of the tree/brush growth, but you can park and walk over a short mud hill to see the highway. There is not as much smoke coming up from the cracks these days, but in some parts where the cracks are deeper there is! The graffiti is also a sight to behold. There are so many layers upon layers of words and artwork, but also many
(MANY)
cans and other trash littered along the edges of the former road.
Here are two pictures I took. The image on the left shows a deep crack where a little steam can be seen coming out (it was a little warm and raining today. I guess it's really visible when its cold) and the image on the right shows a stretch of the highway and some of the graffiti.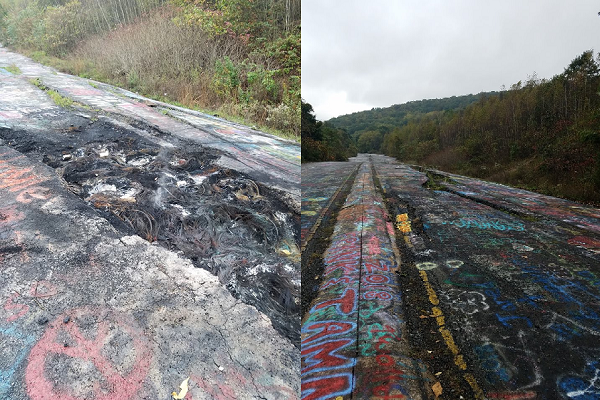 So have you ever visited a "Ghost Town"? What did you think? What made it a Ghost Town?