I've noticed that many HOLers have lovely signatures, some even animated! I've always wondered how to make those, perhaps some of you have tips for me?
With that, I thought of opening up this discussion about signatures. What's your current signature inspiration? How did you make/get it? Do you have a collection of signatures used so far?
Here we go, digging out all my old old old signatures
This was probably my first ever signature, used back in 2009/2010: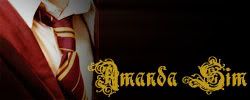 This is a signature I've used for a pretty long time because I like the idea of seeing my name on the Marauder's Map:
And this last signature is the one I used for Globe Blitz to represent my team:
EDIT: I finally tried making a gif siggy! Thank you guys for your lovely tips!