We appreciate the words of J.K. Rowling – she has, after all, written the histories of a boy named Harry Potter. There are other magical authors out there, though.
Comb through this word search and find at least 20 surnames of the various famous authors from the wizarding world.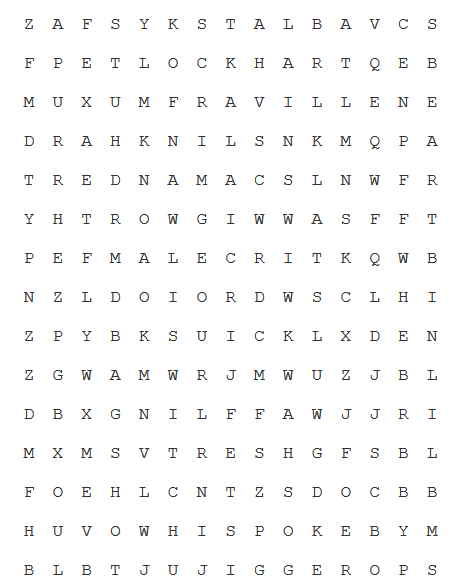 Upload your solution to an image-hosting site such as Photobucket or Tinypic and send the link to
hol.appreciationmonth[at]gmail.com
with
HOL Book Club - (your HOL ID)
as the subject. Show a list of the authors' surnames
in alphabetical order
. Be sure to include your HOL name, HOL ID and House in the body of your email.
In order to get full points for this task (ie. 10 points), you'll need to submit your solution by
Sunday, 27 September
at 11:59 PM HOL time. Otherwise feel free to still send in your solution after then - you will still get some points for it.
Did you find more than 20 surnames? Good for you! You'll get your points AND some Beans!

Once you have done so, why not check out the
Book Club
? The
HOL Book Club
is a place where we can show our appreciation for various authors, and their works, both Magic and Muggle. Alanna Pierce and Professor Opal Dragonfly have both come back from a brief hiatus (they were cruising the world in their Muggle-made sailboat), and have since enlisted a few folks to help them out. It will be changing locations in due course, but in the meantime, go explore what is on offer at the HOL Book Club!
*****
While we're at it, if you want to create a picture of the cover of your favorite HP book of magic, post it in here, and I'll send you 30 Beans. Limit of graphic size: 800 pixels total (e.g. 300 x 500 pixels or 400 x 400 pixels).