One of the great things about HOL is that there are many opportunities to interact with people from all over the world. HOLLERS is a club at HOL that helps facilitate this.
For this task, you'll need to choose someone who isn't in your house (ideally someone you haven't spoken to before) and ask them at least 5 general questions in order to get to know them better. Once you have your answers, you'll need to visually depict them through a drawing or graphic of some kind. It can be in the form of a collage or a mind map or anything else along those lines. Be creative and have fun!
Here are some ideas of questions to get you started:
What are some of your hobbies?
What is your favourite colour?
Where is your favourite place to be?
What is your favourite season?
What is your favourite quote?
Once you have created your visual representation, be sure to include a short paragraph explaining what the pictures represent (and also the layout if applicable).
Here is an example based on a series of questions that I asked Tarma: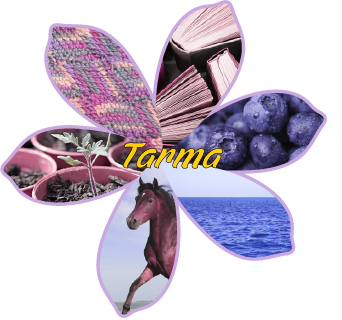 A flower was used to symbolise Tarma's appreciation of nature. Tarma's hobbies include reading, knitting and gardening. She loves horses and one of her favourite places to be is by the ocean. One of Tarma's favourite foods is blueberries. Her favourite colour is purple, so a slight purple hue was used for the images. Lastly, Tarma enjoys doodling so a script font was used for her name.
Upload your drawing/graphic to an image-hosting site such as Photobucket or Tinypic and post the picture in this thread to earn your points.
Please keep your graphics to 600x600 pixels or less. Also remember to include a short explanation of the graphic/drawing in your post.
You're welcome to do this for more than one person. For each additional person, you'll get 20 extra beans for a maximum of 40 beans.
We would like to encourage you to speak to as many different members of the HOL community as possible -- so if you see a graphic pertaining to a particular person, rather try asking someone else instead. Similarly, if you have already been asked sets of questions by two different people, please suggest someone else in your place. We also ask that you be respectful of both the person you ask the questions of as well as other HOLers. We reserve the right to delete any posts that do not follow this and you will not get points for the task.
In order to get full points for this task (ie. 10 points), you'll need to submit your solution by
Sunday, 13 September
at 11:59 PM HOL time. Otherwise feel free to still send in your submission after then - you will still get some points for it.
Once you have done so, why not sign up for
HOLLERS
and get involved in a discussion or even an activity.