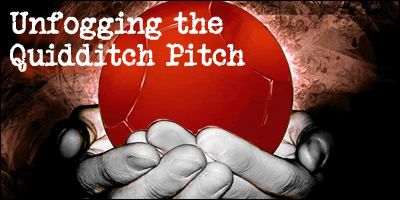 Sharpen your inner eyes Quidditch fans! We want your predictions for the upcoming Quidditch match. Answer the 3 questions (see below) regarding the outcome of the game. You have from today until the snitch is released on Saturday to reply.
For each person who answers the questions, I will personally add 10 beans to the pot. So, no cost to you! Quidditch players are also welcome to answer.
After the game on Saturday, everyone who gets all 3 questions correct will split the pot. If no one does, the pot will start at that value for the next game.
Your questions for the
Gryffindor

vs

Ravenclaw
match on
April 8th
:
*Which team will get the last question?
*How many different Beaters will get a hit?
*The first question will be from which book?

The crystal ball is in your hands. Post your answers below.
Current Pot: 680 beans
Previous rounds:
2016 - 2017

Ravenclaw

vs

Hufflepuff
match on
March 18th
:
*Which team's Seeker will land on a clue square first?

N/A


*How many 'All Chasers' questions will there be?

6


*Will the length of the answer to the final question be over/under/exactly 7 characters? (according to the question set!)

Over
No winners
Slytherin

vs

Gryffindor
match on
March 11th
:
*Which team's Keeper will get a block first?

Slytherin


*How many 'All Chasers' questions will there be?

2


*Will the answer to the first question be the name of a character?

No
Winner: Maxim Trevelyan
Gryffindor

vs

Slytherin
match on
February 18th
:
*Which team's Keeper will get a block first?

Slytherin


*How many questions will be marked as a quote [Q]?

1


*What will be the first word of the last question?

How
No winners
Ravenclaw

vs

Slytherin
match on
January 22nd
:
*Which team will score first?

Slytherin


*How many Bludgers will the Seekers hit?

3


*Will the answer to the last question be a number?

No
Winners: Prof. Amy Lupin, Elena Galatas
Hufflepuff

vs

Ravenclaw
match on
January 14th
:
*Which team's Beaters will get more blocks?

Hufflepuff


*How many goal attempts will there be?

68


*Will the Snitch be caught within 60 minutes?

Yes
No winners
Ravenclaw

vs

Gryffindor
match on
December 17th
:
*Which team will get the first hit after break?

Ravenclaw


*How many total blocks will the Keepers get?

15


*Will a Chaser win MVP?

No
No winners
Slytherin

vs

Hufflepuff
match on
December 10th
:
*Which team will get the first All Chasers?

Hufflepuff


*How many different Beaters will get a hit?

1


*Will the length of the answer to the final question be over/under/exactly 7 characters? (according to the question set!)

over
No winners
2015 - 2016

Gryffindor

vs

Hufflepuff
match on
June 4th
:
*Which team's Keeper will get a block first?

Gryffindor


*How many 'All Chasers' questions will there be?

12


*Will the answer to the last question be the name of a character?

No
No winners
Ravenclaw

vs

Gryffindor
match on
May 14th
:
*The first question will be from which book?

Goblet of Fire


*Which team will get the last question?

Ravenclaw


*How many total blocks will the Keepers get?

12
No winners
Your questions for the
Gryffindor

vs

Slytherin
match on
March 19th
:
*Which team's Keeper will get a block first?

Slytherin


*Will a Beater win MVP?

Yes


*How many different Chasers will score a goal?

3
Winner: Arianna Stonewater
Hufflepuff

vs

Ravenclaw
match on
March 12th
:
*Which team will get the first All Chasers?

Ravenclaw


*How many Bludgers will the Seekers hit?

14


*Will any questions be missed in Quaffle play?

Yes
No winners
Ravenclaw

vs

Hufflepuff
match on
January 16th
:
*Which team will score first?

Ravenclaw


*Will the answer to the last question be the name of a character?

No


*How many goal attempts will there be?

72
No winners
Slytherin

vs

Gryffindor
match on
January 9th
:
*The first question will be from which book?

Book 1


*Will the last question be Chasers versus Beaters?

Yes


*Estimate the total number of questions:

177
No winners
Hufflepuff

vs

Slytherin
match on
December 19th
:
*Which team's Beaters will get more blocks?

Slytherin


*How many solving breaks will there be?

5


*Will each Chaser score at least one goal?

No
Winners: Prof. Scarlet Leslie-Lewis, Will Lestrange, Darcey Goode, Kim Alting
Gryffindor

vs

Ravenclaw
match on
December 12th
:
*Which team's Keeper will have more blocks?

Gryffindor


*How many different players will get a hit?

9


*Will any questions be missed in Quaffle play?

Yes
No winners
Slytherin

vs

Ravenclaw
match on
November 21st
:
*Which team will get the first All Chasers?

Slytherin


*How many Bludgers will the Seekers hit?

11


*Will the Keepers block more than half the shots on goal?

Yes
No winners
Hufflepuff

vs

Gryffindor
match on
November 14th
:
*Which team will score first?

Hufflepuff


*How many total blocks will the Keepers get?

20


*Will a Beater win MVP?

No
No winners
2014 - 2015

Ravenclaw

vs

Slytherin
match on
June 20th
:
*When the winning Seeker comes into #quidditch, which team will have possession of the Quaffle?

Slytherin


*How many Bludgers will the Seekers hit?

7


*How many 'All Chasers' questions will there be?

1
No winners
Hufflepuff

vs

Gryffindor
match on
May 30th
:
*Which team will get the first All Chasers?

N/A


*Will all the players get at least one hit?

N/A


*How many goal attempts will there be?

N/A
No winners
Slytherin

vs

Ravenclaw
match on
May 16th
:
*Which team will score more goals?

Slytherin


*How many different players will get a hit?

10


*Will a Seeker land on a Bludger before the first break?

No
No winners
Hufflepuff

vs

Slytherin
match on
April 18th
:
*Which team's Keeper will get more blocks?

Slytherin


*How many blocks will the Beaters get?

36


*Will the last question be Chaser versus Keeper?

Yes
No winners
Gryffindor

vs

Ravenclaw
match on
April 11th
:
*Which team will score first?

Ravenclaw


*How many different players will get a hit?

8


*How many 'All Chasers' questions will there be?

4
Winner: Polaris Black
Ravenclaw

vs

Hufflepuff
match on
March 14th
:
*Which team will get the first hit after break?

Ravenclaw


*Estimate the number of goal attempts:

94


*Will the last question be Chasers versus Beaters?

No
No winners
Slytherin

vs

Gryffindor
match on
March 7th
:
*Which team's Beaters will get more blocks?

Slytherin


*How many different players will score a goal?

3


*Estimate the Quaffle point difference:

380
No winners
Gryffindor

vs

Slytherin
match on
January 17th
:
*Which team's Keeper will get a block first?

Gryffindor


*How many goals will be scored?

45


*Estimate the total number of questions:

170
No winners
Hufflepuff

vs

Ravenclaw
match on
January 10th
:
*From which team will the first successful 'dodge' come from?

N/A


*How many different players will get a hit?

9


*Will the Snitch be caught?

N/A
No winners
Ravenclaw

vs

Gryffindor
match on
December 13th
:
*Which team's Keeper will have more blocks?

Gryffindor


*Estimate the total number of 'dodge' typos:

0


*Will any players ping out during the game?

Yes
No winners
Slytherin

vs

Hufflepuff
match on
December 6th
:
*Which team will call the first time out?

Hufflepuff


*How many different Chasers will score a goal?

3


*Will the Snitch be caught before Quaffle break?

Yes
Winners: Prof. Tarma Amelia Black, Polaris Black, Ailime Wright
Gryffindor

vs

Hufflepuff
match on
November 15th
:
*Which team will score first?

Hufflepuff


*How many total blocks will the Beaters get?

26


*How many 'All Chasers' questions will there be?

6
No winners
Ravenclaw

vs

Slytherin
match on
November 8th
:
*Which team will have possession of the Quaffle first?

Slytherin


*Estimate the Quaffle point difference:

30


*Will a Beater get bludgered?

No
Winner: Kim Alting
2014 - Spring Term

Gryffindor

vs

Hufflepuff
match on
May 17th
:
*From which team will the first successful 'dodge' come from?

Gryffindor


*How many different players will get a hit?

7


*Will a Chaser win MVP?

Yes
No winners
Ravenclaw

vs

Slytherin
match on
May 10th
:
*Which team will score first?

Slytherin


*How many Bludgers will the Seekers hit?

5


*Will the game last longer 30 minutes?

Yes
No winners
Ravenclaw

vs

Gryffindor
match on
April 19th
:
*Which team's Keeper will have more blocks?

Tie - 4 each


*How many different Beaters will get a hit?

2


*Will any questions be missed in Quaffleplay?

No
No winners
Slytherin

vs

Hufflepuff
match on
April 12th
:
*When the winning Seeker comes into #quidditch, which team will have possession of the Quaffle?

N/A


*Will a Chaser get Bludgered?

No


*How many spectators will enter the channel after the game begins?

4
No winners
Gryffindor

vs

Slytherin
on
March 15th
:
*Which team will get the Quaffle after the initial 'All Chasers'?

Slytherin


*How many different Chasers will score a goal?

3


*Will any players ping out during the game?

No
Winners: Maxwell Shadow, Prof. Tarma Amelia Black, Kaiwa Alexandra, Will Lestrange, Sirius Fudge, Ryan Granger
Hufflepuff

vs

Ravenclaw
on
March 8th
:
*Which team will win the first Bludger?

Ravenclaw


*How many 'time's will be called?

1


*How many WFs will the Seekers hit? (combined total)

1
No winners